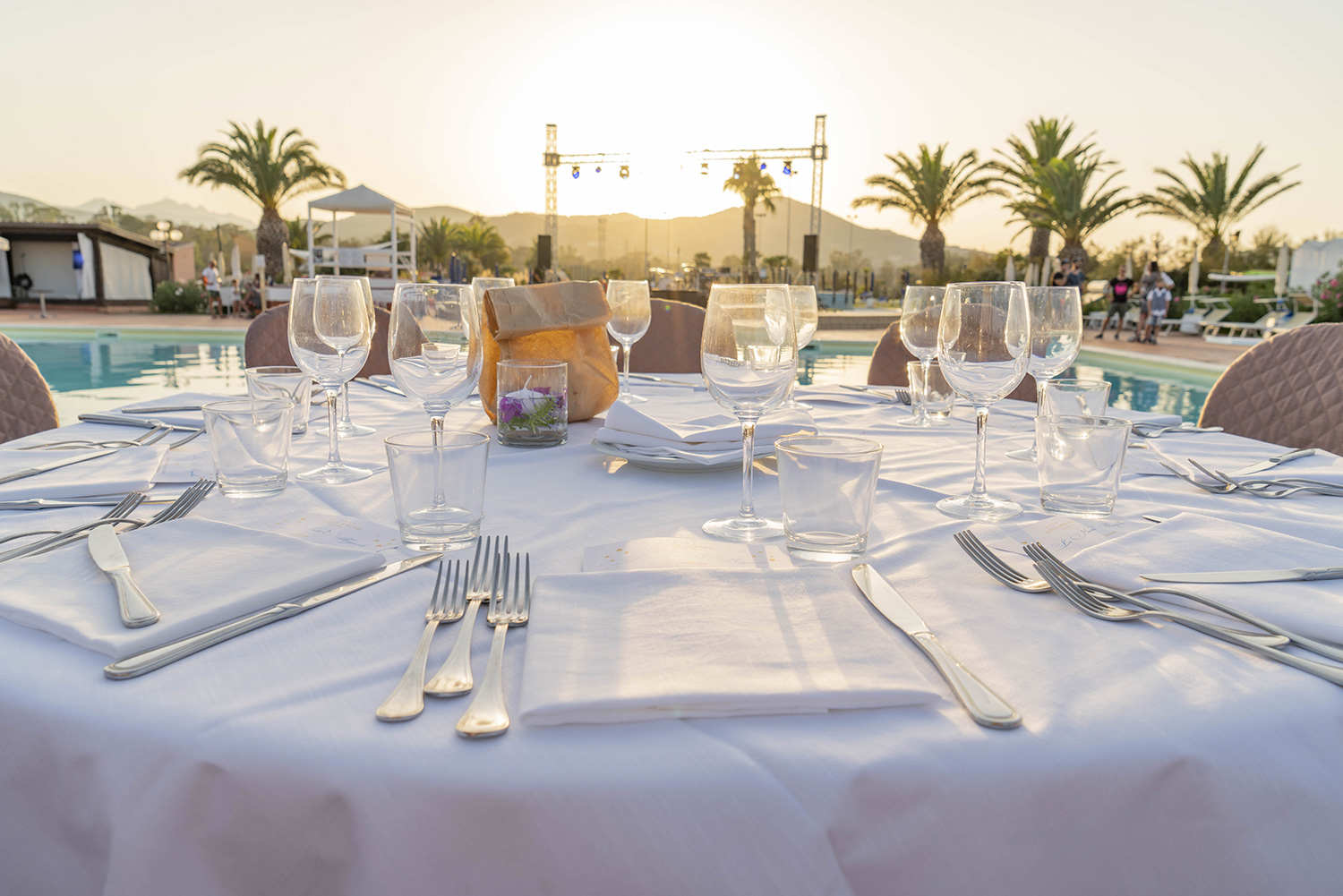 RESTAURANT IN PORTOFERRAIO
Restaurant offering typical Elba cuisine and barbecues
At the Hotel Airone you can enjoy all types of Mediterranean delicacies as well as tasty recipes reflecting Tuscan and Elban tradition. We believe that food is an experience involving taste and well-being: your palate will be tempted by freshly caught fish dishes, grilled specialities, pizzas cooked in a wood-burning oven and delicious desserts. But that's not all: in addition to our restaurants, you can take advantage of the hotel's elegant lounge bar, by the pool, where you can sip a cocktail, play cards or simply enjoy a bit of healthy relaxation, with a fabulous view of the Medici Fortresses of Portoferraio.
The Giardino degli Aironi (Garden of the Herons)
From 7.30 to 10.00 our hotel offers an exquisite breakfast in what we have dubbed the Giardino degli Aironi, a green and pleasantly breezy park where tables are set out when the weather is good, in the calm and peaceful shade of the eucalyptus trees.
Home-made pastries are accompanied by organic and light foods, a wide selection of local products, from jams to fresh fruit, and a rich selection of cheeses, cold cuts, bread and focaccia, toast, cornflakes, muesli and cereals, as well as eggs with bacon and omelettes freshly made by our chefs. The dishes are accompanied by coffee, tea, milk and other drinks, fruit juices and freshly squeezed juices served at the table. For those who wish to enjoy breakfast in their room, why not make your selection and book the breakfast menu the previous evening and our staff will bring it to the room at the agreed time. Could you feel any more pampered?
LUNCH, HALF-BOARD DINNER, PIZZERIA & BAKERY, BIG FRIDAY BUFFET & CHILDREN'S MENU
Le Antiche Saline Restaurant
At the Le Antiche Saline restaurant we offer an informal but carefully planned menu for lunch with express main courses, grilled fish of the day, pizza with long leavening dough cooked in our wood-burning oven and a delicious buffet of salads and vegetables. Dinner for half-board guests is a culinary delight, with a choice of four menus, and is served at the table with the further, tasty "back-up" of an excellent buffet of vegetables, salads, cheeses and pastries.
Guests are also tantalized by our chefs' imaginative Theme Evenings with tasting menus, serving Mediterranean-style dishes , mouth-watering recipes following the Tuscan and Elban tradition and original vegetarian dishes, paying particular attention to the requirements of individual guests. Our hotel meals are made with excellent quality raw materials and local products, carefully selected every day.
À LA CARTE MENU FOR HOTEL GUESTS AS WELL AS OTHER VISITORS…
The Giardino delle Rose (Rose Garden) Restaurant
We are very proud of our little gem, the Giardino delle Rose: it is surrounded by greenery, by the pool, and is accessible to guests who have chosen the bed and breakfast option, and to other visitors who want to enjoy the magic of the Hotel Airone. Dine by candlelight under a beautiful portico on the lawn, with an exclusive view of illuminated Portoferraio in an atmosphere that it is an understatement to describe as enchanted.
The sophisticated à la carte menu offers suggestions worthy of such an intimate and exclusive environment: catch of the day and seasonal fruit and vegetables are the zero-km ingredients that our chef Leonardo Pistolesi uses in his traditional recipes from Elba which he always reinterprets with an imaginative touch. The menu varies according to what the catch of the day offers to guarantee freshness and that essential hint of mystery every evening.
Oysters, lobsters, prawns and all the other seafood delicacies caught on our coasts are available to order. And, of course, our maître is always ready to make suggestions about the most suitable wine for the dish on the table, selecting from those in our cellar which has hundreds of Italian and foreign labels.
Our poolside bar, open from nine to midnight, is the ideal place to cool off and unwind on hot summer days.
Here our guests can enjoy a coffee or a refreshing drink, light lunches, ice creams, sandwiches, snacks and fresh fruit salads during the day, or appreciate an after dinner cocktail admiring the magical spectacle of a starry night, accompanied by relaxing live music.
At sunset, La Rada becomes the perfect setting in which to sip the cocktails and incomparable long drinks prepared by our expert barmen. Let yourself be blown away by the flavours of the inviting aperitifs proposed by our new Bar Manager, Giuseppe.
FOR EVERY KIND OF WINE, TO ENJOY IN THE RESTAURANT OR TAKE AWAY
La Cantina (The Cellar) Winery
The showpiece of our restaurants is undoubtedly our wine bar.
A little treasure trove that contains some of the best labels in the area: you will be able to savour delicious DOC white wines, such as Ansonica DOC and Vermentino DOC, but also the famous reds of Bolgheri and other Super Tuscans such as Tignanello and Sassicaia. It also contains prestigious international labels to be enjoyed as table wines or for an aperitif by the pool at sunset.
Our sommeliers will be happy to take you inside our cellar and introduce you to our best wines. We also offer an option to buy one of our wines on special terms, so that you can enjoy it back at home.
Add your stay with half-board breakfast and dinner
What could be more relaxing than staying on a dream island, knowing that there are people taking care of you from morning to evening, in a comfortable environment entirely devoted to "living well"?
Discover half board
RESTAURANT
RESTAURANT
RESTAURANT
RESTAURANT
RESTAURANT