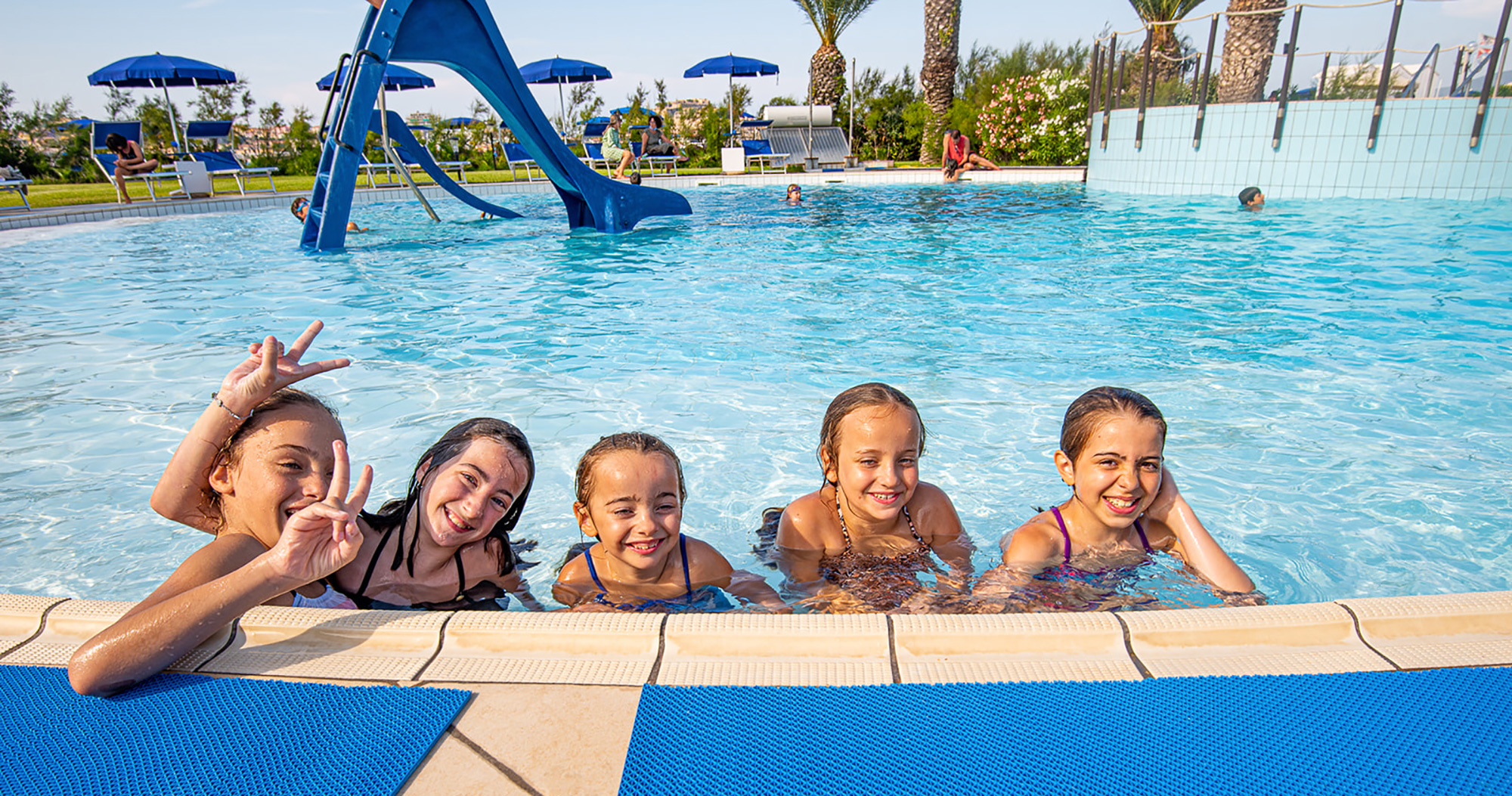 FAMILY HOLIDAYS ON ELBA ISLAND
Precious little family moments remain in our hearts and make life special
Families and their children are the guests of honour in our hotel. We know how priceless it is to spend a holiday together, full of fun and relaxation, collecting wonderful memories to be stored away in your family album.
That's the reason why we want to make sure that your holidays are carefree and enjoyable and we take care of your children as if they were our own. From morning to evening, our team of professional activity leaders takes care of their entertainment, organizing games, workshops and lots and lots of activities at our Mini Club, a real amusement park for children and teenagers.
To meet the needs of different age groups, we offer a Baby Club especially for little ones, aged 4 to 8, and a Junior Club for the older ones: guaranteed fun for everyone and guaranteed relax for parents!
Personalized "Family" rooms
Baby Club & Club with professional activity leaders
Weekly theatrical performance
Special "Peter Pan" menu at Le Antiche Saline restaurant
Swimming, diving and tennis lessons
Cots and high chairs on request
Baby-sitting service on request
Family Hotel on Elba
Our hotel is the perfect place for any family looking for a holiday offering enjoyment and well-being.. You'll have a memorable holiday at the hotel thanks to the quality of our services and the naturalness with which the staff will take care of your needs and those of your children.
Adults will undoubtedly be enchanted by the location, the stylish establishment and the opportunity to enjoy days consisting of reading on the beach, swimming in the pool, good food, spas, open-air sports, guided excursions by bike and on foot, while the little ones will have the opportunity to unleash their energy by enjoying activities, the swimming pools and many types of fun and games in the reserved recreational areas.
Our team of professional entertainers organizes games and creative workshops throughout the day in two different miniclubs, dedicated to both younger and older children, so that parents can relax in complete peace. So it won't be difficult for adults and children to be won over by the Hotel Airone, an environment where it feels a bit like home and you can relax wherever you go.
Family rooms
Located on the ground floor of the hotel our "Family" rooms have a double room communicating with a room with a fixed bed and a foldaway bed, perfect for small children, and they all have a delightful little garden.
Comfort and elegance go hand in hand: the rooms are tastefully furnished and equipped with ample space to relax and let the children play in total privacy. On request, we provide a camping cot, high chair, bottle warmer, baby bath and a special courtesy line for young children.
Special children's menu
Our chef Gianluca Lenardon has created the "Carta Peter Pan" for the hotel's young guests. This simple and healthy menu will not only meet with their approval, but also that of the most demanding mums and dads.
Then, in the summer months, you mustn't miss out on the "Pizza Evening", where children can eat in the company of our activity leaders and have fun with music and games.
For the tiniest guests, fresh vegetable soups, top class meat broths, minced meat, high quality baby food, mini pasta and porridge are available.
Kids club
There is a world of entertainment awaiting children and teenagers at the Hotel Airone!
The star of the Mini Club, our mascot Elbau, greets our little guests every morning and organises lots of surprises for them. The Mini Club opens its doors every day from 9.45 to 12.45 and from 15.30 to 18.15, offering lots of activities suitable for different age groups.
Children aged 4 to 11 are divided into small groups according to age and every day they can learn and have fun with:
Creative drawing and painting workshops
Music, dance and theatre workshops
Craft and construction workshops
Invitation to read activities
Trails and nature-based activities inside the park and sessions taking care of the hotel garden
Sports and physical education activities
All this between a dip in the pool and games on the beach, a nap in the park and a snack together based on fresh fruit, juices and home-made cakes or with the popular Nutella Party! One eye on taste and the other on health.
And to bring the day to an end, every evening at 21.30, children can have fun with the unmissable Baby Dance.
Junior Club
For older children, teenagers aged 12 and over, an activity leader organises sports activities, beach games, tournaments and social contests every day.
Once a week, instructors from the nearby Elba Diving Centre offer a scuba diving trial in the pool.
Also available are:
Swimming lessons for individuals or groups
Tennis courses
Sailing lessons at the nearby Lega Navale
FAMILY
FAMILY
FAMILY
FAMILY
FAMILY