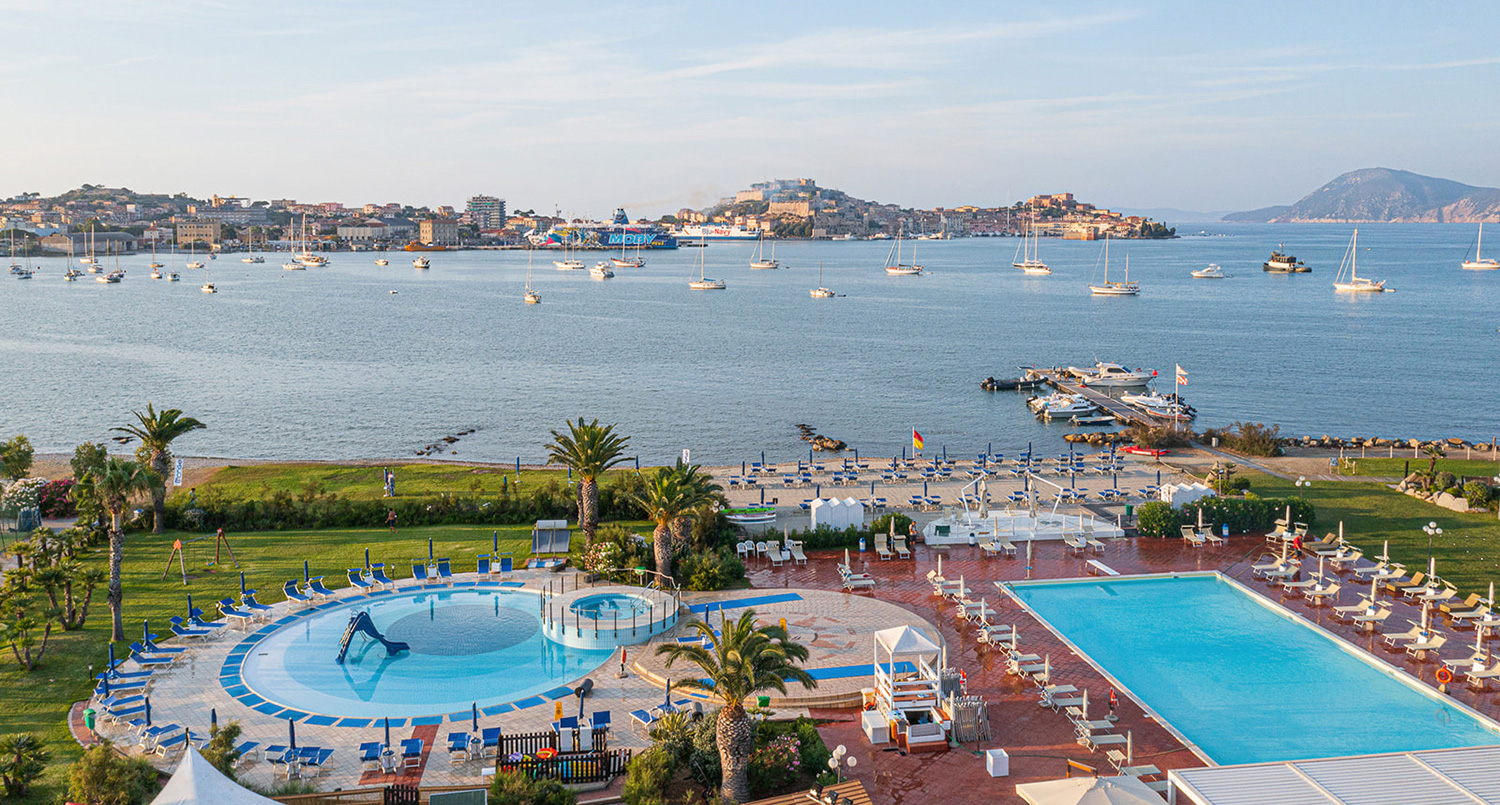 SERVICES AT THE AIRONE HOTEL – ISLAND OF ELBA
Holidays on the Island of Elba
The Hotel Airone is the ideal place to discover the wonders of the island of Elba by staying in a hotel which ,despite being elegant, has a family atmosphere and is surrounded by greenery with plenty to offer to families and to sport and outdoor life lovers.
For those who don't want to go anywhere and prefer to relax just a few steps from their room, our beach overlooks the main gulf of Portoferraio, with a wonderful view of the Medici fortresses. Facing north, with a permanent gentle breeze and never too crowded, our beach is the ideal place to enjoy a sunny day. Our lifeguards are always on hand to make sure you find your favourite spot, sunbeds, parasols and beach towels and will rent you canoes, paddle boards and pedalos.
Taxi-boat and partner beaches
In addition to our private beach, we have a partner beach that can be reached with our taxi-boat, setting sail directly from the pier in front of the hotel: the wonderful Bagnaia. Arriving there by sea is an unforgettable experience and, once you reach your destination, you will be greeted by a private beach of light and dark pebbles, equipped with sunbeds and parasols, where you can spend carefree hours simply relaxing. Our hotel also benefits from an arrangement with Lacona beach, which can be reached in just ten minutes by car and has a private car park. And to enjoy a truly exclusive experience, our Captain Michel organizes dinghy trips in the summer months to visit the most beautiful coves on the island: a two-hour trip to see the island of Elba as you've never seen it before, immersing yourself in its crystal clear waters, accompanied by the stories and anecdotes of an Elban DOC.
Our swimming pools are ideal places to spend a day full of sun, relaxation and fun for the little ones. Our guests can take advantage of an Olympic-sized salt water swimming pool, adjacent to the bar and equipped with sunbeds and parasols, and an open-air hot tub with a view of Portoferraio, while children can play in complete safety in the round, sloping pool, with a slide and lots of toys. And to gain confidence in the water, why not to book individual or group lessons (maximum 4 people) with our qualified (FIN) swimming instructor who will provide professional yet empathetic support for hotel guests who are still using their life jackets.
We have chosen the category of "family hotel" as our ultimate aim, precisely because of the genuine commitment we put into guaranteeing a relaxing and enjoyable stay for the whole family, adding new ideas and fresh proposals every year. Children are the guests of honour at the Hotel Airone and the numerous activities we organize for different age groups have always been a source of pride and a highlight among the services offered by our hotel: creative workshops, music, dance, theatre, sports, gardening and outdoor games in the hotel's large park, our little guests won't have time to get bored! Monitored by a staff of young professional childcare specialists, children can rely on attentive supervision and varied entertainment to keep them amused, while parents will feel relaxed and free to enjoy some well-deserved rest.
We know that a holiday is synonymous with well-being and that lots of people appreciate the opportunity to keep fit during the summer months, taking advantage of the physical activity available in the open air. At the Hotel Airone our guests can enjoy the benefits of a wonderful green park where they can run and go for walks, as well as take advantage of the tennis and padel courts. Not only that: from mid-June to mid-September we offer daily sessions of sports activities for adults led by our Minna, an ultra-runner and professional physical trainer: Pilates lessons, aqua aerobics and gentle keep fit at sunset and, by request personal training, tailor-made HIIT lessons, interval training, postural gymnastics and deep stretching, according to the needs of individual clients.
On request, we can organise a private transfer service for our guests to/from the port of Portoferraio (€15.00/18.00 one way) and from/to the airport (€45.00 one way).
The Hotel Airone is one of the few hotels on the island to have a private equipped pier, capable of supplying water and electricity to sailing enthusiasts. We offer our guests the fantastic convenience of mooring their boat or dinghy directly "at home".
A laundry service is available at our hotel with items returned within 24 hours.
A private covered parking area is available to our guests.
Services of all kinds.
For each and every one of you.
Are you bringing your dog?