If you're considering a holiday on the Island of Elba by bike, the Airone bike Hotel is the right place for you. The facility is surrounded by a splendid park of Mediterranean maquis, shaded by palms, eucalyptus trees, and maritime pines, and redolent of aromatic herbs. The lush vegetation extends to the sea, with a breathtaking view overlooking the bay of Portoferraio.
Cycling Holidays
Crystal-clear water, sun, beaches, wooded trails, and a virtually year-round pleasant climate make Elba an ideal destination for bike tourism. The island is perfect for those who wish a complete a bike tour in stages, for a weekend or for a brief excursion in pursuit of fun and sport.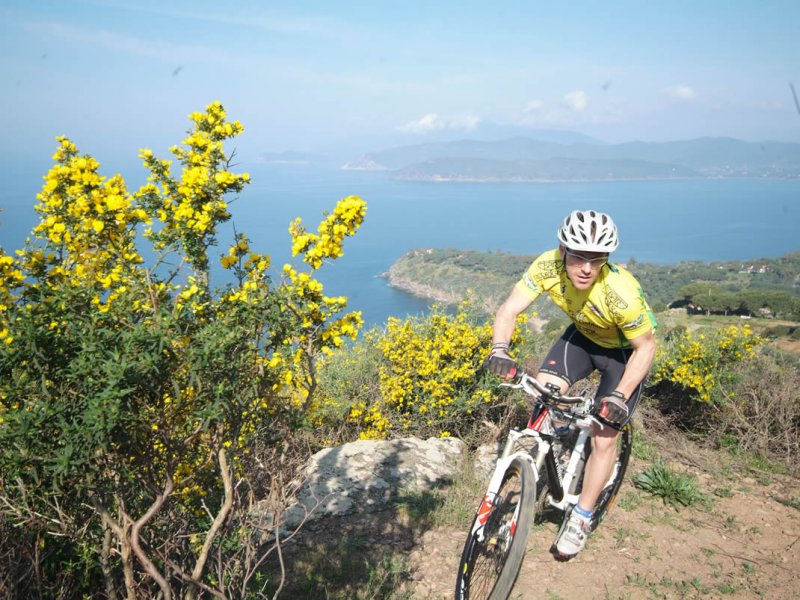 Bike trails are suited for professionals and amateurs alike, with a variety of distances, levels of difficulty, and profiles. One can choose to cycle charming inland paths or the mountains, or to admire the sea while cycling down the coastline. The Island of Elba is a paradise to be discovered, with challenging, adrenalin-pumping mountain bike trails, or pleasant road riding suited for the whole family.
Cycling Excursionists
Hotel Airone belongs to Bike Hotel, a network of facilities dedicated to cycling excursionists and to lovers of bike tourism. As a Bike Hotel, we offer our guests a range of free services to make their Elba biking adventure even more relaxing. The Hotel offers a secure deposit for storing bicycles, as well as the use of a workshop for bike care and maintenance, including cleaning.
For those who so desire, bikes may be rented at the hotel, which also offers expert guides for excursions on exciting itineraries.