Staying at Hotel Airone in July is the perfect solution for taking advantage of a marvellous location and facility, but above all for spending a relaxing holiday by the sea and discovering Elba's most charming beaches.
Best Rate Guarantee
Ready to dive into crystal-clear water and enjoy the hospitality of a facility complete with all the comforts, also in the month of July? Hotel Airone is located a short distance from Portoferraio and just a stone's throw from Tennis Club Isola d'Elba. Easy to reach, it is above all capable of combining top-notch hospitality with fabulous nature: in fact, it rises in a setting dominated by the intense green of the Mediterranean maquis, and the deep blue of the sea. Hotel Airone allows guests to enjoy a marvellous stay in one of Italy's most sought-after seaside towns, and to take advantage of a "last minute Elba, July" bargain offering savings on a host of services. The hotel always guarantees the best rates and offers numerous recreational opportunities.

Most Activities
Thanks to numerous activities specifically for its youngest guests, Hotel Airone is the ideal solution for unforgettable family holidays. But it is also perfect for a splendid stay in pursuit of wellness, with a spa centre providing the benefits of thalassotherapy. Lastly, sportier guests can patronize the Padi Diving Centre and Golf Club Acquabona. With this can't-miss opportunity to visit one of the Mediterranean's most beautiful islands, taking advantage is an absolute must!
Services offered by Hotel Airone
The facility offers an enviable view overlooking the historic centre of Portoferraio. In the evening, as the lights begin illuminating the town, such an evocative view becomes a real pleasure. During their free time, all guests can take part in the many activities that are offered, notably including Pilates, swimming, aerobics, water aerobics, and Hata Yoga classes. And those who prefer relaxing with a good book can take advantage of the large, central swimming pool.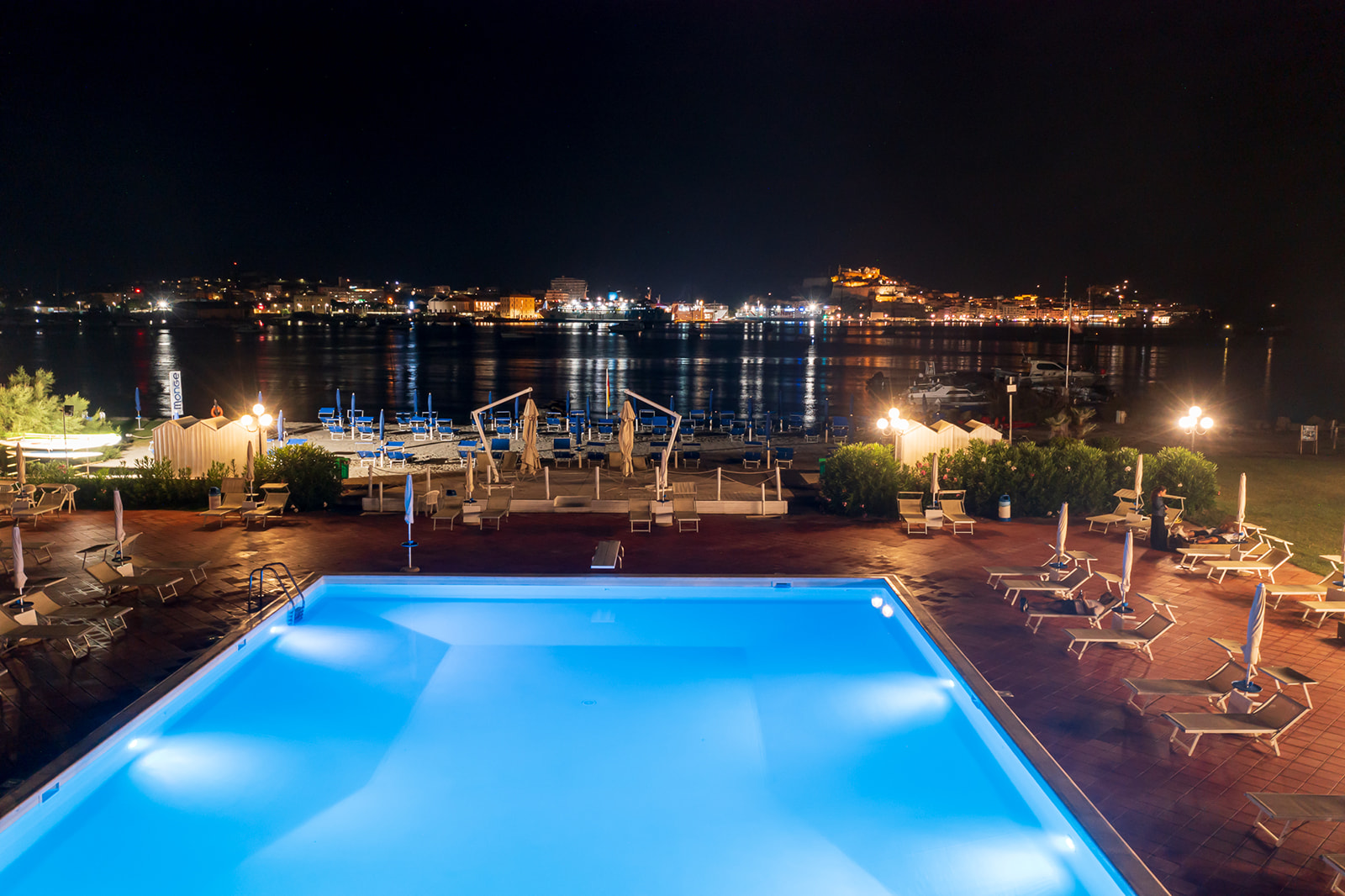 The hotel offers a choice between rooms and apartments; the latter are located just 250 metres from the hotel's main building, in Residence Aironella, a facility with 11 single, two-room, and three-room apartments sleeping from 2 to a maximum of 7 guests. Created in an age-old farmhouse, the apartments offer all the comforts travellers require.